Hi everybody. Hoping you are having a week filled with joy, laughter, kindness, family, and friends. I just wanted to report to you dear ones (thank you kindly for your prayers and encouragement) that...
I
F
I
N
A
L
L
Y
G
O
T
M
Y
N
E
W
M
E
D
I
C
I
N
E
!
Pain relief has found me! Wow, what a journey this has all been.
I am so thankful to say that on Monday, I was finally given the first dose of effective pain relief medicine. Not only will this medicine provide pain relief, but it will also prevent further joint damage. While it left me feeling exhausted and a bit funny Monday night and yesterday, today I feel kinda...normal. I have still experienced a few minor aches and pains, but all of my joints feel free...less tight...less painful...more mobile. It doesn't feel like an elephant is sitting on my chest, my hips now allow me to bend and kneel pain free, and my feet no longer make me want to scream in horror when I step out of bed. I'm telling ya, I feel so hopeful. Weight off my shoulders.
In my previous arthritis experience, the pain was so severe and crippling...I was literally immobile. I remember the day following my first dose of medicine felt miraculous. Not normally able to move at all in the mornings, I jumped out of bed, did some knee bends, and started my own little dance party. It was amazing. This go around, the pain relief was not as dramatic, and I didn't really experience that sense of euphoria like I had expected. However, I just feel so hopeful and thankful. Hopeful for the continued pain relief, hopeful for a life that feels somewhat normal, hopeful for a motivation to be productive and useful, hopeful for the adventures I will be able to experience and participate in due to pain relief, thankful for modern medicine, thankful for a mood and attitude adjustment due to lack of pain, thankful for the loss of pain induced grimaces over the last year or so, thankful for the help and patience of my family and friends, thankful for the opportunity to be treated and seen by doctors and nurses who are so gifted, talented, and friendly, thankful for the opportunity to live my life.
Through it all, Cooper has been a little buddy for me. When he woke up Tuesday morning, I walked into his room, and he looked at me bright eyed and excited like it was Christmas, "Mom, you got your medicine? You feel better?" Melt. My. Heart. Being the Mom that can't get around very well was getting really old, and it was so disappointing to know that I could not play with my little buddy - like, legit playing...on hands and knees making vroom vroom and choo choo noises while playing cars and trains. But my little buddy rallied...giving me big hugs and kisses, taking care of Mommy when I needed it most, and providing me with stationary entertainment...well, stationary for me. Cooper's dance parties are all but stationary. :) We have also had lots of cuddle time, snuggling while watching shows and movies while resting on the couch. It's been rough, and I'm not sure how other children might have handled all the forced inside play time, lack of mommy playtime, and expectations to be a bit more independent, but my little buddy did so well, and I'm ever so grateful that he is exactly who he is. God smiled on us when he gave us sweet Cooper. Three cheers for him! Hallelujah! Hallelujah! Hallelujah!
Now, we still had some cuddle time during shows this morning, but get this, I was able to carry a droopy and tired Cooper upstairs to his bed (no pain...well except the kind you feel when you're out of shape!) and clean out a couple cupboards. This is huge folks. Totally huge. I am in the mood to clean! Yippee. I don't have any grand pictures to show you as of yet, but I do plan on slowly making progress again around here and sharing with you all.
In the mean time, I thought I would just share a few outfits I was inspired by as I begin to think about fall. To be honest, it has felt like fall most of summer (Washington weather hasn't exactly screamed flip flops and bikinis). But this is the time I always cherished growing up, and still do to this day. I love seeing all the school supplies out...families out school shopping. Awkward teenage boys shuffling their feet as Moms are trying to help them find clothes that they'll be happy to wear, sweet little girls trying on outfits in the dressing room with squeals of excitement. The summer clearance sales in prep for fall displays. The thought of warm autumn days that bring a crisp, cool evening. I'm telling ya...although we've hardly had a summer, I won't mind welcoming fall. I happened to purchase some tall brown boots on clearance last year that I didn't get much wear out of yet...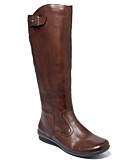 ...and as I look to fall, I can't wait to wear them. Below are a few outfits I pinned on Pinterest...they just felt like me. They might even lead to some boot wearin'. Just sayin'. What do you think?
Super simple, classic look. Maybe sandals wouldn't be perfect for fall, but this versatile foundation would be great for the end of August, layered with a light cardigan for evening time...or changed up with skinnier jeans and boots and a colorful peacoat on a cool fall afternoon. Just love it. Nothing beats a crisp white button up with denim and brown.
The boots! I think my boots could look good with this outfit. Really, I think I just love the overall feel of this outfit - minus the holes in the jeans (I like a more classic look) with a more feminine cardigan or sweater. Just feels cozy and layered. I just got a new purse (mine was falling apart at the seams) and it looks similar to this one. Found it in the BP section at Nordi's for $38.00. Have you seen the prices of the real purses in the "grown up" purse section. My goodness. So not where I want to put my money...literally. Anyhow, this type of outfit would be so great for a beautiful fall day and lunch out with my Mama.
And this one, again with the boots...kinda comfy chic. So casual while still feeling like I care and intentionally got dressed. I often wear fake little diamond earrings, and jeans are pretty much my staple. With this, I loved the hoody. I always love a hoody, but I'm finding I need to find more sophisticated hoodies. I enjoy this sweater hoody that isn't quite so bulky and screaming gym time! I'm thinking I'd wear this out and about...on the weekend or to the grocery store. Would you?
Now here's the thing, I wouldn't say I'm a schlumpa dinka or anything, but I'd also say I'm no fashion maven either. Seriously. Simple, classic, with a touch of comfort and whimsy. While I enjoy fashion, beautiful clothing, and feeling well put together, I can't say it's a passion of mine. It just doesn't feel super important to me. Especially as of lately, comfort and ease have become my mottos, and I don't see it changing anytime soon. Can ya feel me? However, I have to say that the minute I started feeling better, I was more excited to get dressed in the morning. Like today, I woke up pain free. I didn't have any major plans, but I got dressed in the morning anyhow. (Pssst - don't tell anyone, but that hasn't been happening lately!) It was great. I did my hair, put on a little make up, and actually picked out an outfit. I even walked to the mailbox (down the street) and wasn't embarrassed or worried someone would see me. I'm telling ya, it's awesome.
What comes to mind when you think of fall wardrobe? Peacoats? Cute hats? Scarves? What are some of your favorites?
Many blessings to you on this day. I hope you find many reasons to be grateful, thanking God for the blessings in your life. We all have our own issues to face and conquer, but we are so fortunate.
Big hugs,
I am
continuing to pray
for the families and communities in Africa...the children and parents who are suffering and dying of hunger and lack of care. There is an opportunity to help in small ways through
World Vision
. Please
check it out
if you feel so led! And please pray with me. Lord be with these people...the mothers, fathers, children, communities, aid workers, any folks being your hands and feet in this situation. Be the light in their life in this time of despair and darkness. Find a way to bring them the food and nutrition their bodies so desperately need. Drive out the evil and dangerous groups of people that are making relief and safety very difficult, and make safe paths for aid to arrive. Bring salvation to the hearts of each and every one of those folks. Scoop up those precious babies Lord and ease their suffering...hold them in your mighty hand. I pray you give each person strength to continue, courage to hope and fight to hold on, and energy to live each moment that comes. Please help them Lord. Forgive me Lord, that I take life and the things that really matter for granted at times. Thank you for the grace you have shown me, that I might live and wake up each morning not fearing for my life, safe in a cozy home, hungry and fed with no worries, loved and supported by a family, and healthy enough to care for my son. I praise you Lord for my precious healthy son. Please never let me lose sight of how truly blessed I am. Help me Lord to focus on you. Break my heart for the things that break yours. In Jesus name I pray, Amen.