So this random, generic candle in a glass jar was looking a little sad and lonely in the house...being as it was fall and beautiful colors were all around us.. So I thought enough was enough already, and I ran upstairs to my ribbon drawer and busted out the twine. I remember seeing an easy fall decorating idea in
Real Simple
magazine years ago. I did try it then, but I thought this year, I would try it again using preserved leaves (with
THIS
method). Last time, my leaves turned brown in a hurry after simply drying and flattening them. My little man and I picked such beautiful leaves during our walk down the street the other day, so I couldn't bear to see them go brown this time.
Anyhow, all you need are candle/s, twine, and leaves (if preserving them, you need some waxed paper, a thin dish towel, and an iron to).
1. Choose your candle (I prefer a candle in some sort of glass jar or vase...to keep the dried leaf from the flame and the fire men from having to show up at my front door.).
2. Begin wrapping your twine around the jar from the bottom, layering each time on top of the previous wrap.
3. Once you have the band of wrapped twine as wide as you want it, cut your twine, and tie it off. (You can get fancy with this if you like...bows, knots, twists, and ties...whatever you prefer).
4. Pick one of your favorite preserved leaves, and stick it in the twine. Be careful not to break or crumble your leaves during this step. They are FRAGILE.
5. Ta-dah! Beautiful fall candle...from drab to fab!
Can you imagine a full row of these down the middle of your Thanksgiving table?
The fun thing about this simple project is that you can surely reuse this technique, or even just the candle and twine separately, for another holiday. Yeah for easy and reusable! Here are some more pictures of the beautiful preserved leaves around the house right now. I am loving it.
Stearns (tears at the heart strings and is forcing me to really examine my life and who I'm living it for)
Tucked in and peeking out of the base of one of my house plants...that I have managed to keep alive!
Here's to hoping and praying your fall has been glorious and lovely in one way or another!
Blessings,
This Project Featured On...
House of Hepworths
,
Scraps and Scribbles
,
The Multi-Purpose Life
Linking up with ...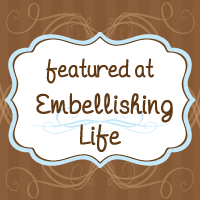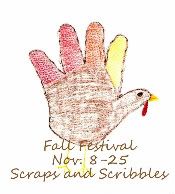 Somewhat Simple
,
House of Hepworths
,
The Shabby Chic Cottage
,
Life as Lori
,
Crystal's Craft Spot
,
Cottage Instincts
,
Scraps and Scribbles
, and
Fireflies and Jellybeans